Ref: 2014/145 Date: 06.12.2014
The Office Bearers/ Central Committee Members/ State Body Chiefs
A.I.B.R.F
Dear Sir
Re: Centralised Demonstration by AIBRF at Hyderabad on 2nd December, 2014 in support of UFBU Demands
As decided by AIBRF and advised earlier, the Centralised Demonstration was held in front of State Bank of Hyderabad office, Chikoti Garden, Begumpeth, Hyderabad on 2nd December, 2014 between 11.30 AM to 12.30 PM in support of UFBU demands and the on going agitational programme of bank unions to coincide with relay strike of the employees organised on the day in Southern part of the country.

2. Office Bearers, Central Committee members of AIBRF coming from all over the country, office bearers of Andhra Pradesh Bank Retirees Federation (our state body), and local comrades from our affiliated units participated in the demonstration. It was addressed by the office bearers of AIBRF and the resolution was adopted by the gathering. Copy of the resolution is enclosed which will be forwarded to IBA, Government and UFBU constituents with the request to accept the demands of UFBU and conclude the settlement without further delay.

3. On this occasion, retirees demands were also highlighted and appeal was made to the government /IBA to approve them in the ensuing settlement.
4. We shall continue to support the agitational programmes of UFBU to be launched in the coming days to achieve success on bank employees and retirees demands. We request you to participate in agitational programmes of UFBU as and when organised wholeheartedly in coordination with the local leaders.

AIBRF ZINDABAD
UFBU ZINDABAD
BANK EMPLOYEE- RETIREE UNITY ZINDABAD
With Regards
Yours Sincerely
( S.C.JAIN )
GENERAL sECRETARY
Click here to view the Resolution for Rally
Demonstation Photos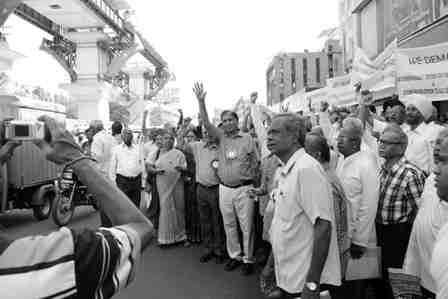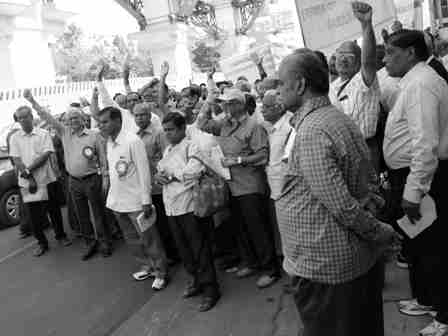 Visit photo gallery section for more photos